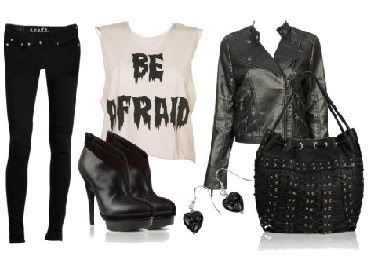 The new black will always be.. more black. Although sometimes it can be boring, black is the most flattering colour to mind, it will make any shape of body look twice as good as say the colour yellow. You can dress it up, dress it down, wear it fancy, wear it casual. Just make sure you wear the right shape of clothing or it could look slightly bad. I don't know about anyone else but I always feel good wearing black.
You can purchase black skinny jeans from more or less anywhere. Topshop, H&M, Primark, Miss Selfridge, Dorothy Perkins, River Island.
These trashy looking t-shirts right now are best to be found in Topshop.
Again, you can find leather jackets anywhere, if your looking for a pricy - long lasting jacket, maybe Riverisland or Topshop are your best buy.
xoxo